Mum Judges
Along with Facebook 'likes', we have a panel of judges made up of 5 professional photographers and 5 Mums. The image with the most 'likes' receives 10 points, the 10th most popular image receives 1 point. This is repeated with the result from our 5 'Mum' judges and our 5 'professional photographer' judges.
The scores are then collated and marked out of a total score of 30 points. The top 5 babies with the most points each will receive a £100 Mothercare voucher and entry into our Baby of the Year competition to win £5000!
Featured below are the Mums on our judging panel: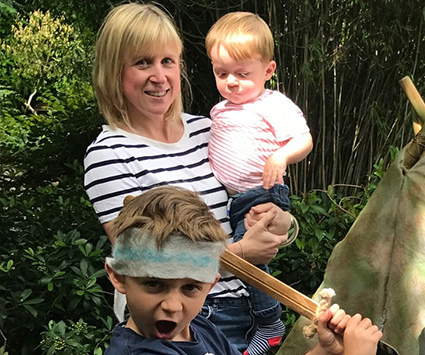 Sarah
My name is Sarah and I am the proud Mum of George and Bobby. I studied Fine Art and Design at University and now I run my own successful design company. I have a keen interest in Architecture and Photography and I am delighted to take part as a "Mum Judge" for the Baby of the Month Competition.
My top tip for preparing your little one for the photo shoot is to make sure to cut baby's nails a few days before the session in case they scratch themselves and leave a visible mark on their little face, photographers are great at re-touching photographs with any flaws as well as dribble and runny noses that might ruin a great shot though!
I have had both my boys photographed professionally as babies and beyond, the images are beautiful and I will treasure them forever.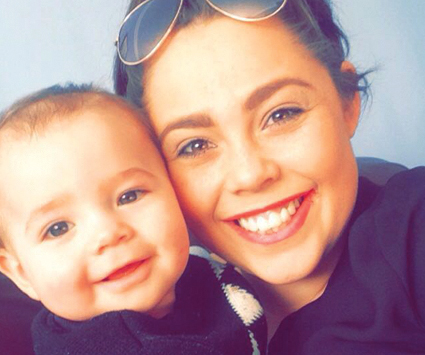 Hollie
Hi, I'm Hollie the proud Mummy of Teddie, who was the 2015 Baby of the Year winner. I work as a Clinical Administrator for a 3D Baby Scanning Clinic, and live in Herne Bay with Teddie, and his daddy Jamie.
I was really pleased to be invited to be on the panel of Mum judges for the competition as I had such an amazing experience myself. Firstly, there was the great time we had with Doug and Sheila of Style Photography, who made it so easy and were so calm and patient with Teddie, resulting in a great photograph. Then we had a wonderful day in London when Prof. Lord Robert Winston presented us with the cheque and we were able to meet everyone associated with Baby of the Month.
It will be great fun to look at all the babies each month and put in my votes, helping someone else's baby to be a winner, just like Teddie!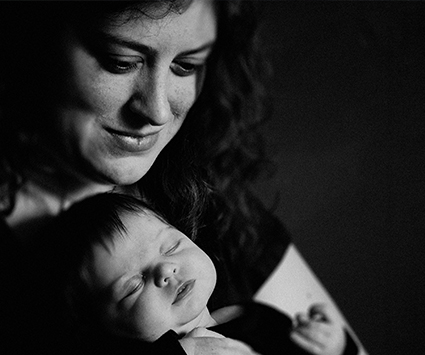 Clare
Hi, my name's Clare and I'm mummy to Eleanor who is just 5 months old.
I'm currently on maternity leave from my job as a Business Rates Manager. I've previously worked in the photography industry, so it's great to give some of my baby photography experience into the judging process.
I was really excited to be asked to be a judge for Baby of the Month! It's so lovely to see all the entries and see how the photographers bring out all the unique personalities of the babies.
My tips for those taking their little one to a photography session would be to definitely go in the morning! There's less chance of any tired tantrums so you can really make the most of your photography session.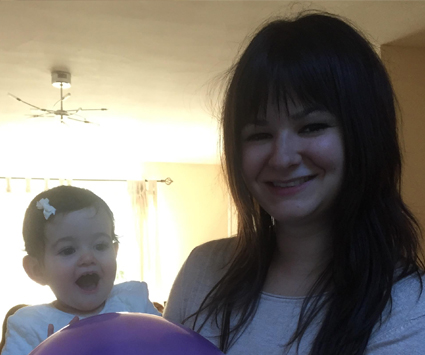 Charlotte
Hi, my name is Charlotte and I am mum to Chloe, one of June's Baby of the Month winners.
I wanted to be a judge because I was interested in seeing how the judging process was structured, and wanted to see what happened "backstage" and be involved with the competition. I have one daughter, Chloe, and stopped working for a year when Chloe was born. I work in Sales for the telecom industry and am looking forward to going back to work this month as I feel it is the right time for both Chloe and I. Part of it is working from home, and also field based, so I'm hoping it will all fit in with my new mum role!
We had a lovely time for our Baby of the Month shoot with Elmcroft Studios. Alison and Steve are lovely people who immediately make you feel at home. They are experienced photographers and know how to get a good shot whilst keeping baby amused at the same time; they have all sorts of eye catching items and rituals that amuses baby! Timing is also key – I made sure I picked a time that worked for Chloe that wasn't during a nap time.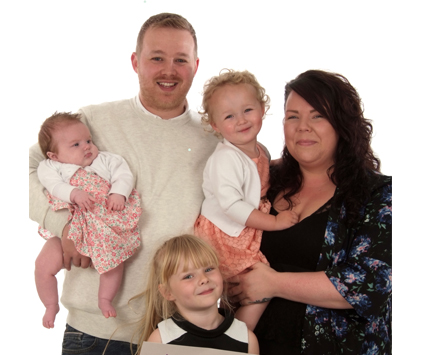 Laura
Hi, I'm Laura. I am 32 years old and a stay at home mum to my 3 beautiful girls; 5 year old Amara, 2 year old Nyla and 8 month old Blossom. I'm very lucky and love every minute I spend with these lovely girlies! Their daddy is VERY outnumbered but he wouldn't have it any other way. I was so excited and honoured to be asked to be a judge for the Baby of the Month competition; it was so lovely looking at all the gorgeous babies!
Blossom has recently had her second picture taken at Alan Schofield Photography and it was a lovely experience as always, Alan and Helen are so friendly and brilliant with the children. We were thrilled when Blossom was one of the winners for February, and the whole of our family and friends were too!
I would say to everyone to have this experience with your child, go to a photographer whose style you like and build a relationship with them – they will always get the best out of your child in the resulting photographs.