More competition success for Style Photography!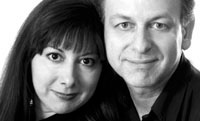 Congratulations to Style Photography on their second 2016 Baby of the Month winning entry with the adorable image of baby Ellie. Style Photography are no strangers to photography success as they captured the 2015 Tembo Baby of the Year winning image of baby Teddie, and have recently achieved two winning entries in the Family of the Month Competition.
Doug Brown and Sheila Mann have both been photographing professionally for over 20 years bringing past artistic experience to the business – Doug had previously worked in graphic design and printing and Sheila as a florist and make-up artist.
Initially, purely wedding photographers until about sixteen years ago, Doug and Sheila when they purchased a lovely Victorian house which they converted to a studio enabling them to branch out into portrait photography. Doug comments "The building has an area for a reception, studio, office, make-up room, lounge/gallery for viewing, bedroom and lounge set for boudoir photo-shoots and a framing work room."
Doug and Sheila have established a successful growing portrait business and receive clients from far and wide from many different sources. There have been a number of successes with awards including UK Family Portrait Photographer of the Year, Kodak Portrait Photographer of the Year, SE Master Fashion Photographer of the Year, and of course capturing Tembo Baby of the Year 2015. They also have a very informative blog containing new offers and the latest activities at the studio.
Sheila says, "We love the diverse range of photography from clients who come into the studio wanting types of images including maternity, newborn, babies, children, families, makeover, boudoir, couples and weddings. The studio is well located in Herne Bay, which is a very popular seafront for day-trippers and has a wide choice of restaurants, cafes and shops."
There is two-hour parking opposite the studio or Council Car Parks within a two minute walk. Nearby is Whitstable and Canterbury, so there is plenty to do for families to do in the area after a photographic session where Doug and Sheila will make you very welcome!
Click here to visit Style Photography's website
Click here to visit Style Photography's Facebook page
Call Doug or Sheila on 01227 370650 to make an appointment