First Baby of the Month win for Fiona McKean Photography!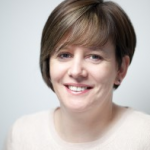 Congratulations to photographer Fiona McKean for her first winning image in the Baby of the Month competition! Fiona's winning image for the March 2017 entries was a gorgeous photograph of baby Marnie that proved popular with our mum and Facebook judging panels. Marnie can now look forward to receiving a £100 Mothercare voucher and entry into the Baby of the Year competition for the chance to win £5000!
Fiona is a fully qualified master photographer based in Dumfries, South West Scotland. Whilst her studio specialises in newborn photography, she loves to photograph children of all ages. Fiona works from a home studio which has been designed with new parents in mind. The studio is warm, welcoming and comfortable. Fiona also shoots on location, with a variety of beautiful locations within a short distance of the studio.
"My passion for photography stems from a love of photos – for as long as I can remember I loved looking through old pictures remembering times forgotten and occasionally times unknown. This passion has grown as I have developed as a photographer with the highlight of my photography career so far was when I qualified to Licentiate level with both the SWPP and MPA.
Working from my home based studio in the beautiful town of Dumfries allows me to offer a comfortable environment where new parents and families can sit back and relax while I create beautiful images for them to treasure
It is a privilege to photograph people, in particular children. Capturing their moment in time to give them and their families lifelong memories to treasure."
There is parking available immediately outside the studio and the local bus stop is a couple of minutes walk away.
Click here to visit Fiona's website
Click here to visit Fiona's Facebook page
You can contact Fiona via her website's 'Contact Us' page
Save
Save
Save
Save
Save
Save
Save
Save
Save
Save
Save
Save
Save
Save
Save
Save
Save
Save
Save
Save
Save
Save