 Success for Mitch Davies and Baby Edward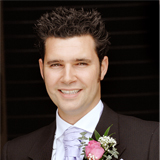 Little Munchkins Photography Studio have achieved their first Baby of the Month Competition success in November 2015 with their winning photograph of Edward.
The studio, operated by Mitch and Sarah Davies, is set in 30 acres of a family owned, award-winning Vineyard in Bobbington in the heart of the West Midlands.
Commenting on their win, Mitch told us "We're over the moon and delighted that one of our images has been chosen as a winner for November. There were so many wonderful images entered and for ours to be chosen is a really amazing feeling. This is the second time that this family have been to our studio. They also had their eldest son, Oscar, photographed here when he was born so we have a long standing relationship with the parents and loved welcoming them back with their latest addition, Edward. Edward was the perfect model and spent most of his session fast asleep, which was perfect for capturing some adorable images."
Mitch and Sarah offer everything from baby and family shoots, pet photography to model portfolio shoots and even wedding photography, which has taken them across the world to a range of stunning locations including Lake Garda in Italy!
"Our studio photography gives us the opportunity to work with a wide range of fantastic people on a daily basis. Our aim in the studio is to offer a friendly, relaxed environment that allows us to create fun, natural and timeless images that will be treasured forever. The studio is set in a Vineyard where you can take part in wine tastings and vineyard tours led by professionals with generations of experience behind them. There are also a huge range of craft and gift shops on site that produce exquisite, handmade gifts from glassware to furniture.
If you're looking to entertain the children, from April there will also be a Zoo on-site with a huge range of animals including snakes, meerkats, wallabies and birds of prey! We are also ideally placed for walking enthusiasts with huge nature parks such as Himley and Baggeridge near by and walks along the canal just a five minute drive away."
Click here to visit Little Munchkins website
Click here to visit Little Munchkins Facebook page
Call Little Munchkins on 07828 145624 to make an appointment